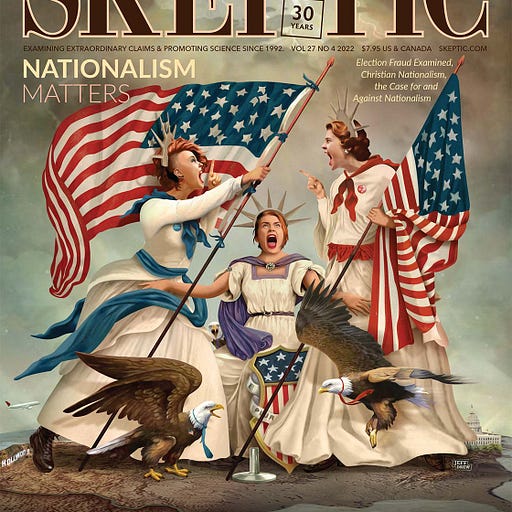 Jan 9 • 20M
Protopian Politics & the Future of Nationalism, audio edition
Are city-states the future for humanity here on Earth and on other planets and moons?
Note: The latest issue of Skeptic magazine, Vol. 27, No. 4, is devoted to Nationalism Matters (in keeping with our 2022 thematic issues of Trans Matters, Abortion Matters, and Race Matters; in 2023 we will address Economic and Money Matters, Energy Matters, Education Matters, and Health Matters). In this issue we solicited articles to make the case for nationalism, the case against nationalism, the rise of Christian and religious nationalism, political polarization, rigged election conspiracy theories, why nations are becoming more secular, and why America is so religious. My contribution, a shortened version reprinted here, is based on a portion of the last chapter of my book The Moral Arc, in which I speculate about the future of moral progress, in both the near and far future. Order the latest issue of Skeptic here.
Skeptic is a reader-supported publication. Paid subscriptions go to the Skeptics Society, a 501(c)(3) nonprofit education organization. Please consider becoming a subscriber.
Michael Shermer is the Publisher of Skeptic magazine, the host of The Michael Shermer Show, and a Presidential Fellow at Chapman University. His many books include Why People Believe Weird Things, The Science of Good and Evil, The Believing Brain, The Moral Arc, and Heavens on Earth. His new book is Conspiracy: Why the Rational Believe the Irrational.